On July 17, 2001, the lovebirds Janmejay Dalai and Runu were blessed with a baby boy (Mickey). We invite you all to bless the new born child and wish good time to Mrs and Mr Dalai.
Experts says baby Satwik looks like the way Rickey used to in his infant days.

---


Another good news. Mrs Swati and Mr Satyajeet Patnaik were blessed with a baby boy (Saswat) on September 30, 2001. Please join us in wishing the best for the new born baby.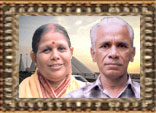 The Baby has been further blessed by his grand parents (parents of Mr Satyajeet Patnaik) who are currently in Bahrain. We wish them a pleasant and fulfilling stay in Bahrain.
This has been a very good year for all of us, we are fortunate to get blessings from our elders in Bahrain the moment we bow our heads.